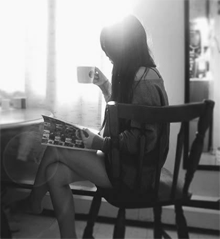 Finally bought my dream car :)
Rain, rain, go away.
- - -
The weather in YEG has been incredibly moody lately. Just when we thought spring was here, it begins to rain, snow, and storm. Having lived here all my life, you'd think I'd be used to it by now, but I'm really not. 
In light of this rain, I also realized that I have never owned a pair of rain boots before. The last thing I want this year is to have to walk around with soggy shoes so I went and got myself my first pair!
I had always wanted a pair of Burberry rain boots but they always looked really funny on me. The classic knee-high ones were far too stiff and awkward looking on little old me so when I saw these combat-inspired rain booties, I just had to have them! 
Twenty two
- - -
I celebrated my 22nd birthday this past Saturday. I've always organized a big dinner with all my friends but this year I wasn't feeling up to it. Does anyone else feel like not celebrating as they get older? I used to get super excited when my birthday comes around but this year I just felt content with the idea of staying home.
It's really funny how my not wanting to do anything turned into many things. On Wednesday, M took me out for a birthday date at Famoso's Neapolitan Pizza. 
On Friday, T, K and L took me out to the Cactus Club Café for my birthday. We shared many laughs, delicious food and drinks. Unfortunately, not many pictures were taken that night. 
I didn't want any gifts this year but they surprised me with the Michael Kors Selma Messenger, which I adore.
On Saturday, S took me out for dinner at Joey's. The food was delicious, I ordered the Ahi Tuna Club and some crispy mashed potatoes and we both split a Chocolate Soufleé afterwards. It was the first time I had tried Ahi Tuna and I'm in love.
I am incredibly blessed to have such great friends. My other friends called me and sang me happy birthday, which made me smile from ear to ear while tearing up at the same time. I am so grateful!
Also with entering my 22nd year, I sold my car on Sunday and will be purchasing a new one very soon, I will update you guys when I get it!